About PJ Mode
PJ Mode grew up in Indiana and graduated from Cornell University with a concentration in what would today be called computer science. He then spent three years on active duty as a naval officer managing an applied computing team at the Naval Weapons Laboratory, Dahlgren, Virginia. Following his military service, he attended the Harvard Law School, where he served as an editor of the Law Review.
After graduation from Harvard, PJ went to work for the Washington law firm then called Wilmer, Cutler & Pickering (now Wilmer Hale), where he spent most of the next 35 years. He left the firm for four months in 1968 to work on the issues staff of Robert F. Kennedy's Presidential campaign. From 1970 to 1973, he was Chief Counsel of the United States Senate Subcommittee on Constitutional Amendments and Chief Legislative Assistant to Senator Birch Bayh. Among other things, PJ was involved in the enactment of the 26th Amendment (giving 18-year-olds the right to vote); congressional passage of the Equal Rights Amendment (unratified); passage of Title IX; and the defeat of President Nixon's nomination of Judge Harrold Carswell to the Supreme Court.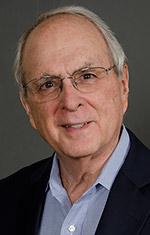 PJ Mode
Photo by Elaine Mode
PJ practiced in a number of substantive legal areas during his years at Wilmer, including banking, securities, communications, energy, and antitrust. The great majority of his work involved disputes before regulatory agencies, the federal courts, arbitration panels, and congressional committees. He served as Chairman of the firm from 1987 to 1995. In 2003, PJ retired from Wilmer and became Special Counsel to Citigroup. He and his wife Elaine, a photographer, moved to New York near their children and (now four) grandchildren in Brooklyn. At Citi, PJ managed the company's litigation and resolution of a number of major lawsuits and investigations, including those arising out of the collapse of Enron, WorldCom, Global Crossing, and Parmalat, as well as the fallout from the 2007-08 financial crisis.
In July 2013, PJ retired once more. A student and collector of old maps since 1980, he now focuses on researching and collecting "persuasive cartography," maps intended primarily to influence opinions or beliefs – to send a message – rather than to communicate geographic information. His collection is going to Cornell University, and PJ's website at persuasivemaps.library.cornell.edu describes the subject and the collection, with links to high-resolution images and detailed notes on over 800 maps.